1964 Wagner 4 WD on Loan from Darin Burco. This tractor was recently featured in the Norwegian magazine called Traktor; see the article HERE.
1956 Ford Fairlane Sedan now on display and recently donated
1954 GMC 100 Pick Up Truck – on Loan
1919 Cletrac – Donated
1919 John Deere GP – Donated
John Deere Wire Tire Baler
1973 International 1468
1956 Minneapolis Moline 445
John Deere Manure Spreader
1957 Case 400 LP HI Crop
1937 John Deere tractor Styled L with Mud Lugs and belt pull drive
John Deere 5020
Rath Packing Exhibit
Poop Cycle display – Donated by Iowa commodity members
Coming – 150 Years of Agricultural Mechanization
New Exhibits Arriving in October & November
NEW DISPLAY- 1941 John Deere A-II Reproduction Armored "Tractor Tank" on display through Memorial Day 2013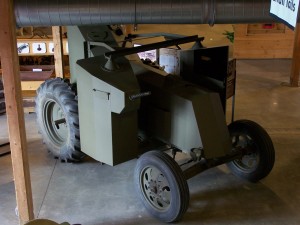 Heartland Acres "Ag in the Military" display continues to grow. The most recent addition to the exhibit is a reproduction of an armored John Deere Model A prototype A-II "tractor tank". The tractor is on loan from co-owners Dr. Curt Clark and Dr. Leo Milleman from Ames, IA.
The original "tractor tanks" were designed, built and tested in 1940 -1941. The A-I and A-II were never approved by the U.S. Army for production and the prototypes were scrapped. The story of the original armored "tractor tanks" resurfaced in a tractor collector publication in May of 2002.
Drs. Milleman and Clark began researching the A-I and A-II tractor tanks in 2002. Reconstruction of the A-I and A-II started in November 2005. There were no blue prints and only a limited amount of testing documents and a few pictures to go on. With little information and a lot of hard work, the reproduction tractors were completed by June 2006. More of the history on the reproduction prototype "tractor tanks" may be found in the "Ag in the Military" exhibit at Heartland Acres.
You can find many more fascinating displays, hands on activities and the ongoing and ever changing story of our agricultural heritage at Heartland Acres in Independence, Iowa.
Winter hours for the museum begin Monday, November 5. The museum will be closed on weekends and major holidays starting November 5 – April 1, 2013. Call ahead for hours and availability.
1908 Black Automobile
Lloyd Welter from Monticello will be sharing his newest car with us – a 1908 Black.
L1 John Deere with Plow
Mary Lou Harrison from Walker will be sharing her L1 John Deere with Plow.
1956 Minneapolis Monline
Alex Buseman from Charles City will be bringing his award winning 1956 Minneapolis Moline to show at Heartland Acres. Alex won Grand Champion at the 2012 FFA Parade of Champions at the Iowa State Fair.
1915 International Harvester Threshing Machine
Fritz Tegtmeyer will be sharing his 1915 International Harvester threshing machine. It is rare and unique. The threshing machine is in running condition and has been in storage for over 50 years. Built of wood and metal this piece of equipment has a lot of history.
1944 CASE SI "Airborne" tractor with bucket
As part of our ongoing "Ag in the Military" display we are proud to display the 1944 CASE SI "Airborne" tractor. Used behind the lines by Allied troops during D-Day to clear the the way for victory in Europe, these tractors cleared hedgerows and opened up roadways.
In 1944, WWII, U.S. military supremacy was aided by agricultural manufactures during one of the largest military build-ups of the day. U.S. military equipment specifications called for a tractor to meet heavy duty use, quick and easy transportation and simple serviceability. The CASE SI "Airborne" met these specifications.
Several rifles, a BSA M-20 Military motorcycle (on loan form the National Motorcycle Museum in Anamosa) along with a WWII Ammo belt made by Hinson Manufacturing in Waterloo, IA are on display at Heartland Acres.
Click here to view the Farm Collector magazine article featuring the Case SI Airborne Tractor.
Related links:
http://wcfcourier.com/news/top_story/article_f202d5d0-811a-5d44-80ac-16cedb03032f.html
http://gasengine.farmcollector.com/Tractors/The-Mysterious-Case-SI.aspx?page=2
http://www.constructionequipment.com/case-does-its-part-ww-ii
Gift Shop Items
Wines, food from around Iowa and assorted specialty gifts adn clothing.
Pioneer Seeds Displays
Heartland Acres Agribition Center is the recipient of new interactive displays. The displays include a large kernel of corn held by tweezers standing 15 feet high, an ear of corn standing 7 1/2 feet tall, and a giant soy bean pod, resembling a large green arm, standing 6 feet tall. These displays are all eye catching and great for a photo opportunity.
Tractors at Heartland Acres
The Barn
The most visible and integral part of the Heartland Acres Campus. Ascending 43 feet high, the barn was designed after 1800's barns already located in Buchanan County. Complete with a theater and various interactive displays and exhibits, the visitor's experience begins here.
New Feature: Penny Press Machine
A newly donated penny press machine will now offer guests an opportunity to see how gears, cranks and dies work together to press a penny in to one of four designs. Guests can take the penny home as a memory of their visit to Heartland Acres.
Big & Small Tails
The highlight of many of our visitors—native farm animals, including sheep, goats, cows, pigs and chickens to name a few. Visitors will see, feel and smell what a barnyard is like on a day to day basis. Our bird hatchery and livestock will keep the kids entertained during your visit. Don't forget to stop by "Bessie", our fiberglass Holstein and see how dairy farmers used to harvest milk.
Modern Mechanics and More
Exhibits an assortment of devising created to enhance farming practices such as water pumps, corn grinders, gears and levers, to name a few.
Hall of Time
Take a journey back to what farming practices were when the first settlers arrived in Iowa. The development of agriculture has continued into the 21st Century at an incredible pace.

Cars of YesteryearOne of the Midwest's most unique collections of classic cars. From a 1905 Cadillac to a '57 Ford Thunderbird, this exhibit features the early advent of how trucks enhanced farming practices and will show the progression of cars through the early decades of the 1900's.
The Machine Shed
Exhibits the machines used in a time when planting, cultivating and harvesting was done by real horse and man power. View an assortment of early farm machinery and the capabilities and efficiencies of today's modern machinery. In the 20th century, tractors became the cornerstone of farming.
Click here to see Farm Tractors Video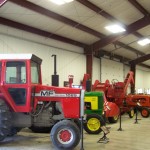 Our latest tractor display arrived in time to be used in the Independence Day Celebration parade in downtown Independence on Monday, July 4. After the parade the very nice 1973 Massey Ferguson 1085 with factory cab will be on display in the machine shed along with many other fine tractors from various decades throughout our agricultural history. Happy Birthday America.

One-Room Schoolhouse
Ever Wondered what it was like attending school before plumbing, back packs and the Internet? Experience a day-in-the-life of a late 1800's student at our One-Room Schoolhouse. Specific programming developed for group tours, include "fetching water", learning activities, games and many other activities of the era, enhancing the learning experience.