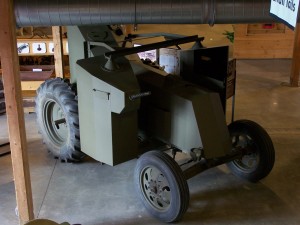 Heartland Acres "Ag in the Military" display continues to grow. The most recent addition to the exhibit is a reproduction of an armored John Deere Model A prototype A-II "tractor tank". The tractor is on loan from co-owners Dr. Curt Clark and Dr. Leo Milleman from Ames, IA.
The original "tractor tanks" were designed, built and tested in 1940 -1941. The A-I and A-II were never approved by the U.S. Army for production and the prototypes were scrapped. The story of the original armored "tractor tanks" resurfaced in a tractor collector publication in May of 2002.
Drs. Milleman and Clark began researching the A-I and A-II tractor tanks in 2002. Reconstruction of the A-I and A-II started in November 2005. There were no blue prints and only a limited amount of testing documents and a few pictures to go on. With little information and a lot of hard work, the reproduction tractors were completed by June 2006. More of the history on the reproduction prototype "tractor tanks" may be found in the "Ag in the Military" exhibit at Heartland Acres.
You can find many more fascinating displays, hands on activities and the ongoing and ever changing story of our agricultural heritage at Heartland Acres in Independence, Iowa.
Winter hours for the museum begin Monday, November 5. The museum will be closed on weekends and major holidays starting November 5 – April 1, 2013. Call ahead for hours and availability.
For more information about Heartland Acres please call (319) 332.0123. Heartland Acres Agribition Center is a 501 (c) (3) non- profit organization.